In the late 80's and early 90's the U20 Portuguese football team was hailed as a "golden generation", winning not one, but two junior world cups back to back. They were predicted to be a massive success in senior level international football. These junior Portugal squads were packed to the rafters with stars in the making – Abel Xavier, Joao Pinto, Paulo Sousa Fernando Couto, Amaral, Rui Costa,  and not to mention a certain Luis Figo!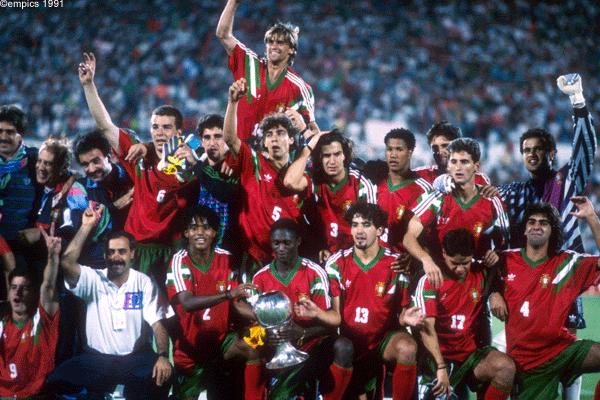 So fast forward a decade and what did the squad achieve overall. Well, Figo won the ballon d'or. In contrast some of the players weren't even playing top level football in Portugal, failing to establish themselves in the top leagues and playing second or third division. Needless to say, as a collective they fell short of the predictions of success as a national team at senior level…
So is this a unique scenario? Were Portugal just unlucky? Well if you look at the history books – they would suggest no. Portugal may have won two U20 world cups, but Argentina have won a colossal 5 (1995, 1997, 2001, 2005, 2007), Ghana won in 2009 and Serbia have won the most recent edition in 2015. Have a look over the results of the U16/17 World Cups and you'll see Nigeria have won 5, Mexico have won 2 and Ghana have also won 2.
Surely performance at U20 level are a good measure of future success? So what's going wrong with these squads???!
Well in a nutshell – nothing. The failure of these squads to achieve expectations set upon them is because these expectations are unfounded. They are based upon the assumption that success at a junior level, is a good precursor of senior level. If you hold this particular view you may be in for a shock. But don't worry – you're not the only one who might have made some wrong predictions! Pele predicted an African nation would win the world cup by the 2000…16 years later and we are still waiting!


Junior success in any sport (other than early specialisation sports) is a fairly unreliable predictor of long term success. Yes there are always one or two starlets who are the exceptions to the rule, but generally it's poor. In fact there has been some interesting research backing this perspective up. This study by Foss and Chapman investigated the premise that Junior level (U20) success translates into senior level success. They did this by analyzing career progressions of junior and senior elite track and field athletes. This study had some interesting results – Senior Olympic finalists achieved their best performance at a much later age than Junior level finalists (average age of 25 vs 21). This was pretty consistent across all the events they tracked. They also found that successful Junior level athletes progressed significantly less than those successful at the Senior level. Their conclusion was that success at Junior level does not determine success at Senior level.


Sadly, this study is not an isolated case. A similar study was produced by Hollings, Mallet and Hume who followed 11 athletes representing New Zealand who made the final of their respective events at the World Junior Athletics Championships between 1992 – 2006. Of the 11 athletes – 5 made won a medal or made the final at a Senior Athletics Championship or Olympic Games. The other 6 failed to represent their nation at a Senior level. This was explained by a lack of progression and the balance of competing demands and tensions. This is a pretty stark contrast – nearly half made the final at senior world level, whilst the other half failed to even make the step up to senior level.
So what's the take home message here? Well both studies suggested that failure to succeed at the senior level was due to lack of progression/improvement, as well as managing various stressors during transitional period, not to mention differencing in maturation rates.
So in conclusion:
Junior level results have little carryover to senior level
Focus on progression/improvement
Invest in the processes of a good performance rather than the outcomes (winning)
Help your athletes manage their various stressors during the transition from junior to senior level
If you manage to do these things you'll be doing the right things by your athletes and increasing the likelihood of success in the long-term!
I hope this has been informative and helpful! Please feel free to like, comment and share with your friends and colleagues!
For the latest content please like our Facebook page here.
Are you a grassroots youth sport coach or PE teacher who wants to improve the athleticism of your athletes?? Check out our Fundamental series athletic development programs here.
Links
U20 World Cup results
U17 World Cup results