Mark Robertson is a former International Rugby Sevens player and Olympian, amassing 56 tournaments for Scotland Sevens, securing their first ever HSBC World Series win in London, as well as winning a silver medal for Great Britain at the Rio 2016 Olympics.


What was your sporting journey growing up and how were you introduced to the sport you chose?
As a youngster growing up in Melrose my choice of sports was either rugby or rugby! It's a small town – for 364 days of the year you know every person you pass on the street – but on the second Saturday in April Melrose explodes into life! Around 15,000 people cram into our small rugby ground to watch the famous tournament where rugby sevens was born. From the age of four, watching the tournament on the TV at home because I was too young to be let loose in such big crowds, my dream was to play in that tournament in front of my home crowd.
Melrose was fortunate to attract some of the country's best international players. I didn't think much of this at the time, but knowing all the players on first name terms and seeing that they were just normal blokes definitely had a big influence on what I thought I could achieve. Rightly or wrongly, I'd made the assumption that I would grow up to play for Melrose and Scotland – a lot of the Melrose players had gone to the same school as me, they'd played for the same youth team, so surely I could do the same – why not?
The journey from being a cheeky little whipper snapper to a professional player didn't turn out to be as smooth as planned,  growing up in a place like Melrose definitely gave me a lot of belief in terms of what I could go on to achieve. Without the exposure to the club and the players that played there, my sporting journey would have been very different.
Was there an 'ignition moment' for you? For example, a moment where you thought, "Wow, this is what I want to do"?
Being in Melrose and seeing the buzz around the town on sevens weekend gave me a lot of motivation, but I vividly remember watching Jonah Lomu play at Hong Kong sevens in front of a huge crowd and thinking "I'm going to do that one day". There is something about that stadium, the crowd, and the history behind the tournament that really excited me as a youngster.

How did you balance academic ambitions with sporting ambition?
I've got to be honest, at school I definitely didn't balance my sporting and academic commitments. It wasn't until the age of 19, when I couldn't even make the Melrose second XV team that I was shocked into action. Unfortunately, throughout school I thought I would become a pro player without having to put much effort in – this isn't the way achievement works.
I was about to give up rugby and say it wasn't meant to be when I was pulled aside by the club president whilst watching the Melrose sevens from the stands (a bit worse for wear if you know what I mean!). He said "What are you doing wasting yourself on the touchlines? All you've ever wanted to do is play in this tournament. Now you can either do something about it or you can carry on embarrassing yourself in the crowds! It's up to you." That was my turning point – from that moment I decided I wouldn't allow myself to be left saying what if? I committed myself to working towards specific goals and with this I started to see improvements quickly.
I now know that I had a fixed mindset going through school – I was either good at something or I wasn't. Through goal setting, I gained a lot of confidence and with that I started to realise that if I could work towards goals in my sport, why not in academia too. From then on the ball started to roll and I managed to develop a great balance between my studies and my sport.
What have been the highlights of your sporting career?
It would be easy to say winning an Olympic medal was the highlight of my career but it wasn't.
There are two highlights that stand out – they're both special to me because of the journey it took to get there.
The first was reaching the Melrose sevens final 12 months after that turning point on the touchlines – that 12 month period is undoubtedly what made me as a player. I'll never forget the feeling of running out in front of a home crowd in the final of a tournament that meant so much to me. I have to add that this became one of my best and worst memories at the same time though! After leading 24-0 at half time we ended up losing 24-42. Bitter sweet!
The second highlight was being part of the first Scotland team to win a world series sevens event. It took incredible resilience from a group of players who were on the brink of losing their jobs as the governing body considered shutting down the sevens programme due to a lack of improvement. Winning a tournament against the best countries in the world was deemed impossible by the media and a lot of the onlookers but there was a belief and a hunger in that group enabled us to create history. An incredible day to be a part of.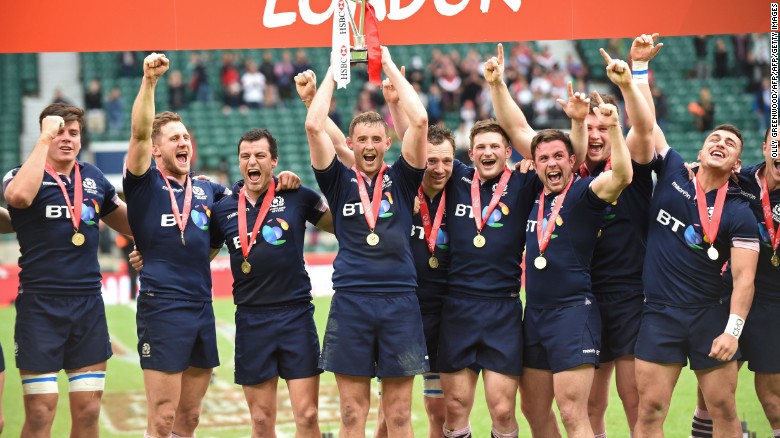 What have been the biggest challenges in your career and how have you overcome them?
I had a number of long term injuries throughout my career but this comes with the territory. What I struggled most with was the mental aspects of performance. I went through a period where I had no coping strategy when I made a mistake or had a bad game. So much focus goes into improving the physical aspects of performance but I truly believe it's the mental side of the game that separates the best players from those who don't quite reach their potential.
I missed out on the commonwealth games selection in 2014 and I put that down to the lack of time I spent developing coping mechanisms for mistakes, criticism and bad performances. After the all-time low of watching my teammates play in a home commonwealth games I committed to training the mental side of my performance as much as the physical side. There's "no one size fits all" approach to improving mental resilience – what worked for me was researching the topic and trying out different strategies to see what worked best. I developed strategies that completely changed my perception of mistakes and the way I dealt with them. Through this, I gained a lot of confidence and I ended up playing my best rugby over the last three years of my career. For me, the mental aspect of performance is like any other muscle in the body – work hard and the muscle becomes strong and robust, but ignore it and it will shrink and become weak.




Were there any influential relationships you had with coaches throughout your development and how have these relationships impacted you?
Rob Moffat had a hugely positive influence on me. He started as my school coach, he gave me my first opportunity to play for Scotland as head coach of the sevens, and he then awarded me my first full time professional contract with Edinburgh Rugby. A hugely positive man who believes anything is possible – this definitely rubbed off on me.
Craig Chalmers was the coach of Melrose when I first broke into the 1st XV. Craig is a coach who understands that each player is an individual rather than using a "one size fits all" approach. I was a player who needed a lot of freedom on the pitch to perform to my potential and that's exactly what he gave me.
What advice would you give to the coaches of young athletes, based on your experience?
I always try to remember what I was like at a younger age. Before delivering a session I ask myself if I would enjoy it, and if I would learn from it.
What's next for you (eg. competition/career change)?
Last summer I made the transition from playing professional rugby into full time S&C coaching. There are qualities I developed as a player that transfer well into coaching but I've learned that transferring my ideas to other people is an art and a skill that will develop over time. Coaching provides me with a totally different sense of achievement that playing did, but it's a career I'm enjoying and I'm excited about where it will take me.
You can keep up to date with Mark via his Instagram: @marky_robertson and Twitter: @marky_robertson
Are you a grassroots youth sport coach or PE teacher who wants to improve the athleticism of your athletes?? Check out our Fundamental series athletic development programs here.