Last night, Murrayfield played host to the UKSCA Regional Workshop for Scotland. The workshop was a great event, giving insight to a variety of topics including establishing Physical Performance program in Snowsport, ACL return to play program, as well as Motor Learning and Constraints approaches.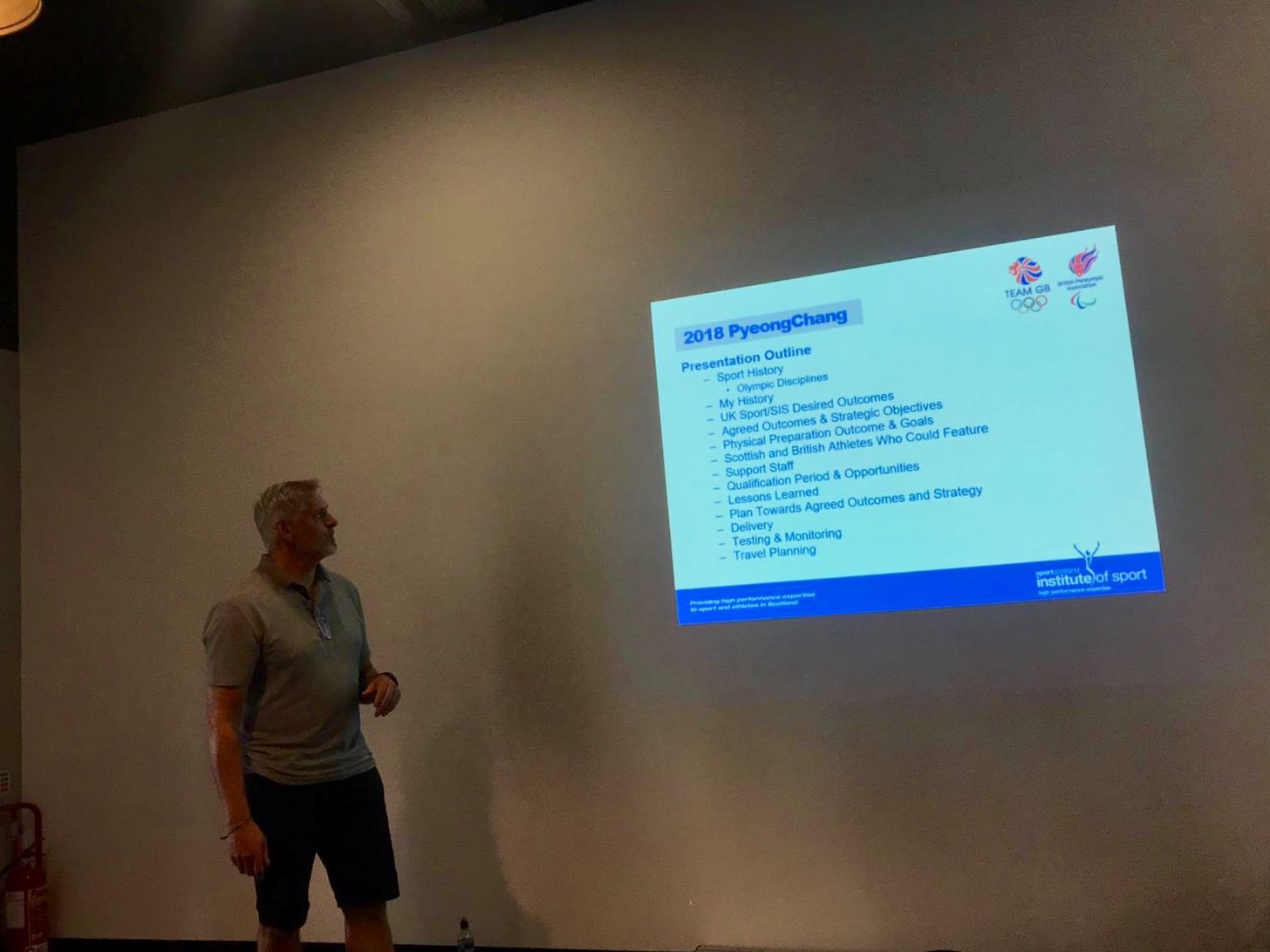 Developing the Snowsports Athlete
Scott Crawford of the Scottish Institute of Sport, gave us a great overview of the evolution and history of competitive Snowsport, as well as the establishment of the governing bodies and stakeholders. He then gave insights into his experience of establishing a high performance program in a "free spirit" sport which didn't have a history of sports science/strength & conditioning. He detailed some of the strategic objectives of British Ski and Snowboard to create "athletes as robust as rugby players and as agile as gymnasts". This was coupled with the pressure from funding bodies (UkSport etc) to achieve podium places at both able bodied and Paralympic events.
He detailed how the culture initially consisted of no long term planning, poor load management, low training S&C training age, as well as poor on/off snow behaviours. He gave a great overview of how he helped tackle some of these issues in establishing a high performance culture:
Highlighting a lack of value on hydration status via osmolality monitoring (important when up a mountain in the sun all day!)
Improving awareness of training loads (via use of GPS/Accelerometry/Polar Flow)
Quantifying Impact/G forces in the sport (138k/hr and 16G measured in a boot in downhill!)
Basic nutrition and food planning/preparation and hygiene
As well as simple processes such as proper forward planning and scheduling in order to improve the effectiveness of the program and managing fatigue
It was really interesting to see how such simple (in theory) approaches were successful in establishing a high performance culture as well as a high performing team and this was certainly achieved, as it helped to secure GB's first podium in 35 years!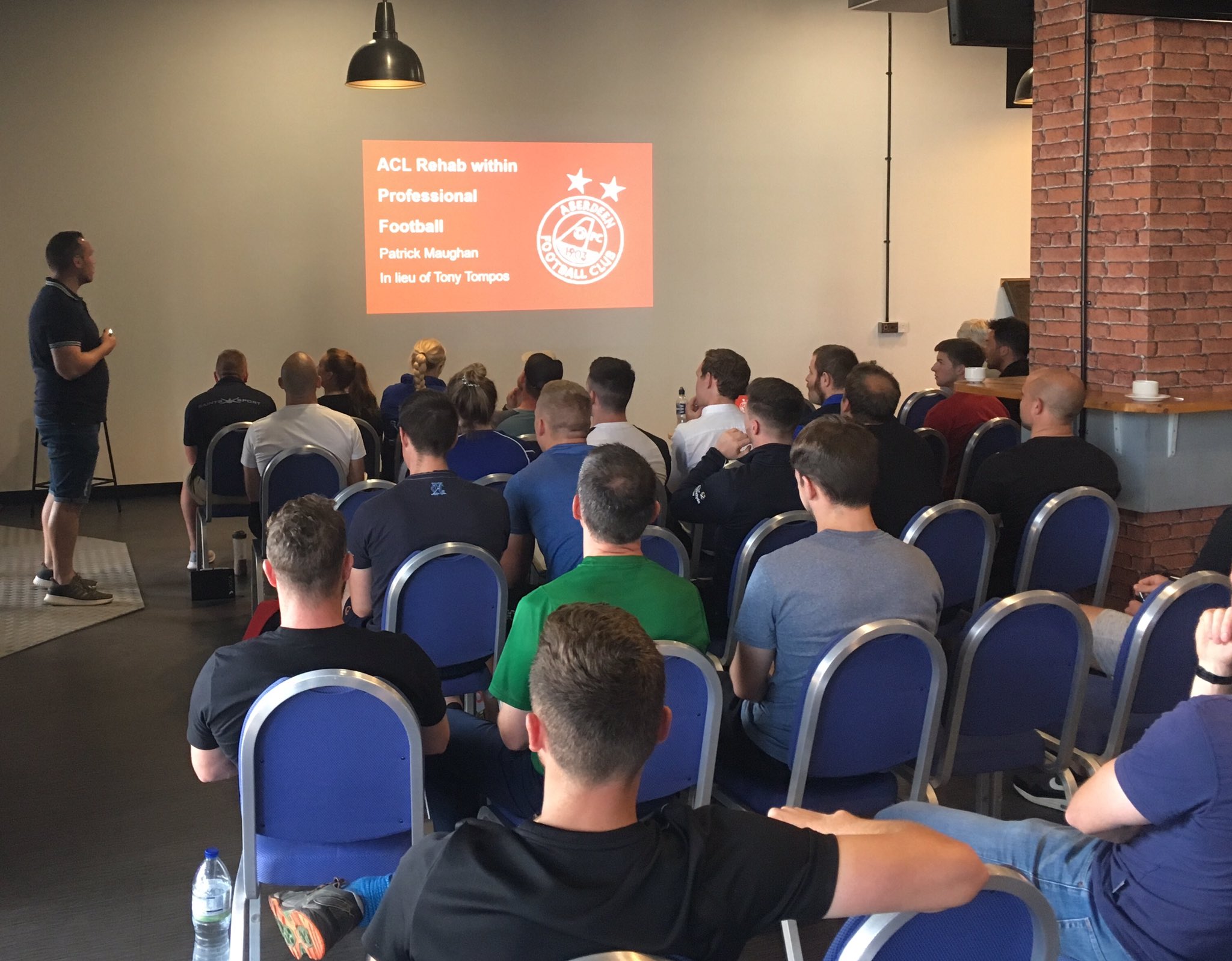 ACL rehabilitation within professional football – Case Study
Due to Aberdeen FC's continued run in European competition, Tony Tompos was unable to present himself, with Patrick Maughan standing in for him. I have to say well done to him as he did a great job considering!
Patrick gave us the background (including video evidence) of an Aberdeen player sustaining an ACL injury, as well as a description of the surgical intervention (Brace Technique) utilised. He then walked us through the Return to play protocol which was a task-based, rather than time-based program. This was accompanied by plenty of video examples of the exercises and protocols used. The use of this type of protocol allows for the time to be adjusted based upon whether the athlete achieves the competency/task or not. Patrick highlighted how this athlete was probably an outlier, as he was highly engaged, Highly committed, teetotal, as well as studying for an engineering degree! He suggested these factors were important in the fact that this player managed to return to play in just 6 months!
This particular surgical technique and RTP protocol was highly successful allowing a player in his final year of a contract to return to play quickly and to secure a transfer and contract at a new club. You can hear more about the approach on the Football Fitness Federation Podcast here.
Patrick also suggested a key component of successful coaching/RTP processes in gaining athlete buy in by empowering and engaging athletes, as well as being transparent and giving feedback. He pointed us to the article…for more info on that area.
Patrick then went on to overview the protocols Aberdeen FC use to expose their players to regular High Speed Running, in an effort to reduce and prevent hamstring injury. This again was an interesting element, showing their integrated approach of incorporating resisted sprints, competitive races and resistance training (Proximal, Distal, Dynamic and in the future – Isometric) to reduce injury risk.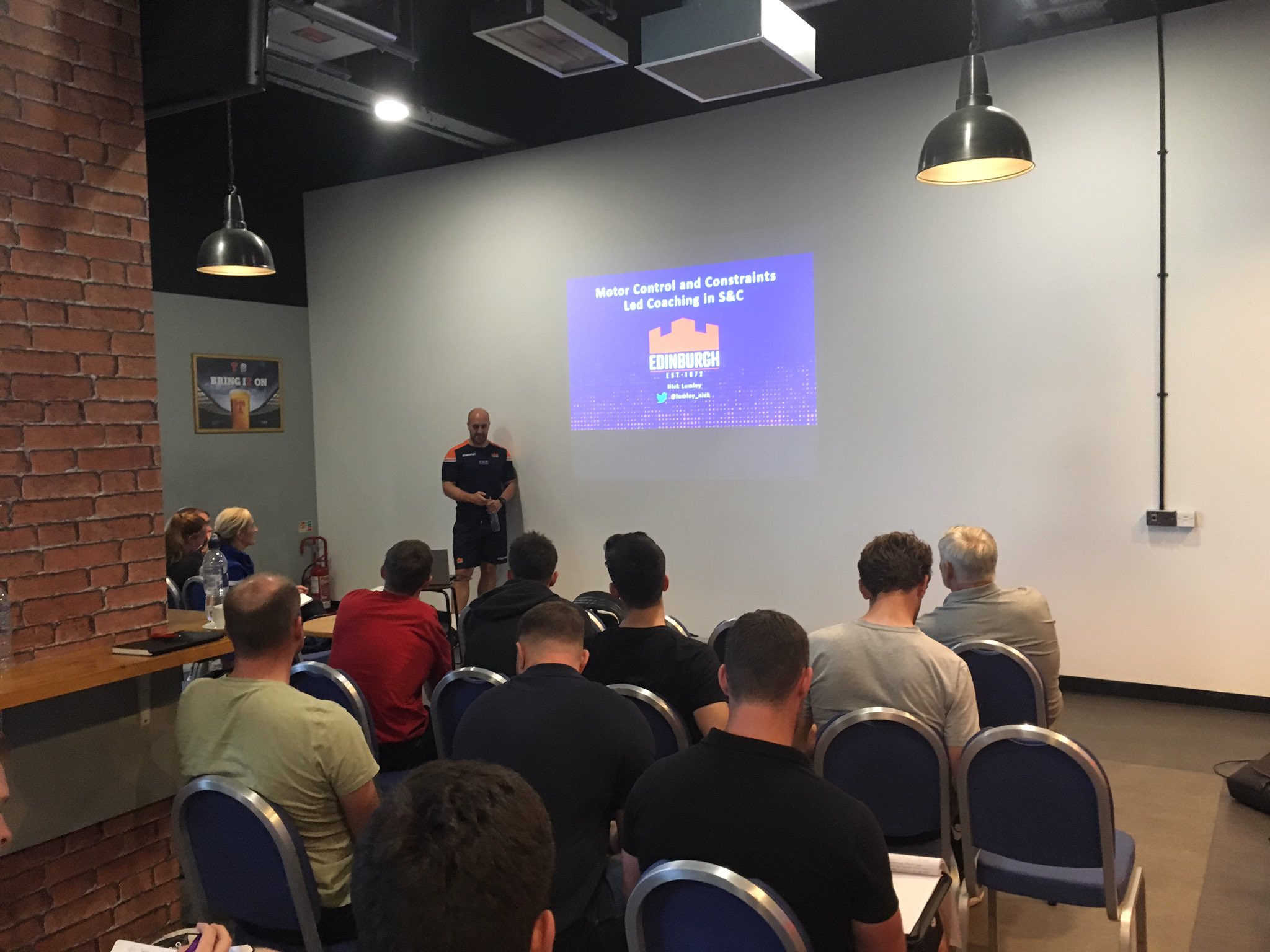 Constraints led approach to Motor Learning & It's importance in S&C
Nick Lumley of Edinburgh Rugby gave us a whistle stop tour of motor learning theory. He highlighted some key elements such as a reductionist approach vs complex dynamical systems theory. Although popularised by Frans Bosch of late, Nick did a good job of review some of the initial research and evidence of this theory and pointed us in the direction of some reading on the topic. Such as:
Nick did well to discuss Bernstein's problem, summarising it to the principles that we learn from errors in order to achieve the right outcome/process, the degrees of freedom explored in the process, as well as the fact that multijoint movements essentiall have hundreds of potential degrees of freedom. Essentially, the brain can't process all this information in the required timeframe so it relies on eliminating degrees of freedom to find "attractors" (non-negotiables) to build a stable movement principle over time, then depending on the complexity, we piece these together to create the desired movement. However, we still require "fluctuators" (variable elements) in order to vary the technique in response to changing conditions.
Nick did a good job of illustrating this concept with a baseball swing. Describing the requirement of the attractors in terms of the arm swing staying stable, but the influence of the fluctuators such as trunk bend, pelvis rotation and knee bend, in response to the height, line and speed of the pitch.
While not completely sold on Bosch's methods as a panacea to creating faster runners, Nick describes how he incorporates the "Hip Lock" posture in addition to an emphasis on creating high levels of force production and effective application. He showed us some video footage of various exercises utilising constraints in a systematic way to achieve and challenge the "Hip Lock" in a non-fatiguing addition to the training week at Edinburgh Rugby. He described this as a use of constraints being used to aid transfer of motor output from the gym/track to the rugby field.
I have to say this presentation helped clear up a lot of the confusion I had around some of the concepts and terminology used in motor learning and dynamical systems theory. It also gave me a lot of confidence that I am taking the right approach in my Learn-Stretch-Load-Explode model, in that by exposing beginner athletes to variations of a particular movement (pertubations) by using different constraints, I am helping them identify the attractors (non-negotiables) of the movement and helping them to manage the fluctuators (negotiables), ultimately leading to a more stable skill and deepening the "attractor wells".
Well done to Andy Boyd and Rob Pacey for organising the event and to the speakers who did a great job!