Some time ago I attended a UKSport Talent Coaches Breakfast seminar at Bournemouth University, given by a sports psychology lecturer Bryan Jones. He told a story from his time working with a Midlands football club. He told us the story of two vastly different youth players. The first was recruited from Germany, a talented young player destined for great things. The second was less talented, adopted into a foreign family from a war torn African country.

It's alleged that on his first day at the club the second player grabbed the academy manager by the throat and said "I will become a professional footballer." As time went on some patterns began to emerge. During pre season fitness training the first player would often feign injury and remove himself. The second would give his all, ungracefully emptying his tank to prove himself. To cut a long story short eventually the second player became a pro, the first disappeared and I think didn't play at a senior level. We all have a story like this – some player destined for the dizzy heights, only to be surpassed by someone "less talented". Why is this?
An article I read recently aptly named "The rocky road to the top: Why talent needs trauma" could shed some light on this topic. I aim to give a brief review here, mixed in with my own thoughts but if you want to read the full article yourself then click the title above.



Talent development pathway aim to create a smooth journey to peak performance. As smooth as possible. As the articles suggests "…minimising and/or countering extraneous pressures on the developing athlete." Think about it. Clubs/organisations provide the best technical coaches they can, often also providing  physiotherapists, analysts and strength and conditioning coaches. Not to mention providing training/playing kit, transport to matches (or even training), sometimes food. In some cases clubs will even provide housing and schooling for "talented" young athletes.
Whilst working at a football club in the Midlands, a technical coach informed me that one of his players refused to get back on the team bus after a game and wanted to travel home with his family because the bus was "too dirty"…he was 7! Have we set standards too high for what players should expect in terms of being spoon fed and pampered?
So given all these incredible resources, why aren't professional clubs/organisations churning out first team players at a rate of knots? According to this BBC article "Of those entering the game aged 16, two years down the line, 50% will be outside professional football. If we look at the same cohort at 21, the attrition rate is 75% or above." In case you noticed that wasn't how many won't play for the first team – that's how many won't even be at ANY professional club! There's a very interesting BBC article on "What happens to footballers after they get rejected".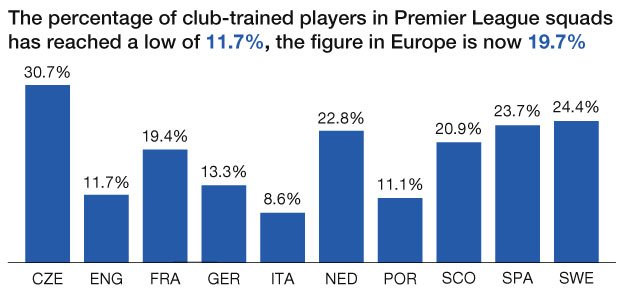 Research suggests that too smooth a developmental curve is an issue, actually resulting in a lower likelihood of senior level performance. Research by Van Ypren suggested that athletes higher in "challenge" factors were significantly more likely to make it to elite level in football. These factors were interesting – examples were the number of siblings, ethnicity and divorce. Essentially, those who experience some sort of challenge are better prepared compared to those who do not experience these. When these "sheltered" individuals hit a challenge, the repercussions are more devastating. Essentially, there is some sort of learning transfer that allows those who experience developmental challenges to learn some mental coping strategy and apply it to other contexts, making them more likely to succeed long term. Self discipline and self control have been suggested to be a particularly useful traits, more effective at predicting academic achievement compared to IQ. These traits were also suggested to better control weight gain and desired behaviour… Sounds like some pretty useful traits!
The importance on mental characteristics such as resilience, mental toughness, growth mindset has been increased in recent years. In fact it's been suggested that Psychological Characteristics of Developing Excellence (PCDEs) include imagery, goal setting, as well as the attitudes, emotions and motivation to reach one's potential. It's also been suggested that athletes with these attributes highly developed are more likely to reach the top levels and maintain their position there.
I find this really interesting – how many professional athletes have reached the pinnacle but failed to stay there due to a lack of coping strategies or too many pressures? Or exposed a number of big character flaws which have negatively affected their performance? The names reel off the tongue: George Best, Paul Gascoigne, John Terry, Ben Cousins, Wayne Carey, Mike Tyson, Jon Jones, Quade Cooper, Danny Cipriani. In the words of one of the highest performing teams of all time, "Better people make better All Blacks." Another antipodean team has another phrase, "No D***heads." In essence, no matter how good you are technically, if you don't contribute to the team and have the mental characteristics and attitude to match, this place is not for you. So if we are to equip or young athletes with the physical skills, don't we also owe it to them to equip them with the mental characteristics to fully exploit these technical skills? A lack of discipline, self control and poor attitude will curtail their development.


So the question is then asked, if these qualities need to be developed, is minimising developmental challenges really the best method from a holistic perspective? Or is there an inverted U or "bell" shaped curve in terms of the amount of how little/how much developmental challenges should be removed? Interesting… Sounds a lot like physical training doesn't it? Too much challenge may kill them off, not enough challenge creates poor adaptation?
The authors then suggest that a degree of "trauma" is not only desirable, but an ESSENTIAL part of developing to high level performance. It's been suggested that encountering and overcoming challenge assists in developing the skills and attitudes to strengthen the individual for future experiences. So the question here is how do we  instill these characteristics in our youth athlete? Whether you are the head of Academy at Manchester United, or the coach of the school netball team.
One thing that's highlighted is that these skills need to be taught, both in formal and informal contexts, then exercised in real life situations. Natural setbacks and failures that occur should be capitalised on (eg. Injury) As with everything this is individual specific and there in lies the art of coaching, knowing your athlete well enough to know what, when and how to undertake this process. Challenges need to be suitable and appropriate. What is crucial is using these challenges for critical reflection, learning and future application. At the earliest stage this can be coach-led but ideally it should be player-led. It's important that we as coaches build this into our coaching, praising examples of overcoming challenges and learn to teach these these skills to our athlete.
Suggested artificially generated challenge scenarios include
playing out of position
playing with an older age group
being set higher standards than peers
responsibility to set out, collect or clean training kit
deselection from certain events
selection to international competition
military style challenges
foreign or "basic" conditions for training camps
I find this last point interesting. Daniel Coyle discusses "Spartan" training conditions compared to "high performance" facilities in his book "The Talent Code." His perspective is that luxurious training conditions breed complacency, whereas Spartan style conditions fuel the motivational fire with the subliminal message that you are not safe. It's an interesting take on the topic. But maybe next time we are considering replacing that old piece of kit with a new shiny substitute, we should consider what message it is sending our athletes. Do we need colourful, shiny bumper weight plates with the club/college name on, or will plain black ones do the same job?


Consider the training facility for the Russian weightlifting team  – nothing too fancy here, but many Olympic medallists.
Have a think about what challenges you could use, how to communicate what attitudes your are looking to shape and how you can implement challenges/"trauma" to do so.
In the theme of the Spartan style of training, give them just enough to keep them hungry for more!
Please like, comment and share! You can keep up to date with us on Facebook.