In keeping with my challenge to read a book a month (you should try it!), here is my latest book review…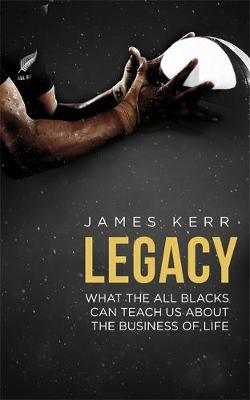 Title: Legacy
Authors: James Kerr
Topic: Coaching/Psychology/Culture
Appropriate for: Coaches, Parents, Teachers, Athletes
Overall rating: 5/5 (if you haven't already – get reading!)
Overview: This is a very interesting and thought provoking read. It provides a pretty candid view into the culture of one of the most successful sports teams of all time. It also highlights how they reversed a downhill slide by addressing some detrimental attitudes within the team. At first glance, you might think "It's a good read, but I don't see how the ideas in this book can be relevant to my u16s…" But actually as you often see in professional sport, the best teams are the best because they do the basics incredibly well. Also, it's better to create a culture that instills the desired values and attitudes at the youth level, rather than having to work on removing harmful attitudes at a senior level. After all, aren't we all tired of seeing arrogant 15 year old primadonnas?
Legacy presents the following principles as key to the All Blacks team:
Sweep the sheds – never be to big to do the small things that need to be done
Go for the gap – when you're on top of your game, change your game
Play with purpose – ask "why"
Pass the ball – leaders create leaders
Create a learning environment – leaders are teachers
No d***heads – follow the spearhead
Embrace expectations – aim for the highest cloud
Train to win – practice under pressure
Keep a blue head – control your attention
Know Thyself – keep it real
Sacrifice – find something you would die for and give your life to it
Invent a language – sing your world into existence
Ritualise to actualise – create a culture
Be a good ancestor – plant trees you'll never see
Write your legacy – this is your time
I don't know what you think, but I certainly can see a number of principles which would create a better mentality in youth athletes and foster better long term mental development, as well as improving the environment in any team. If you peek under the surface, you'll see the growth mindset in action too.
Overall, I would really recommend everybody check out this book. I guarantee it will make you reflect upon your own coaching practice, language and values. There will also be at least one thing you take away that could benefit your coaching practice and athletes under your care. You can find the book on amazon here: Legacy

Happy reading and please like, comment or share as you see fit! Keep up to date with the latest content via our Facebook page here.
Are you a grassroots youth sport coach or PE teacher who wants to improve the athleticism of your athletes?? Check out our Fundamental series athletic development programs here.